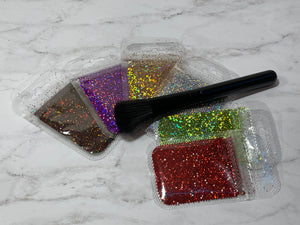 Nail Art Glitter Brush
1. Apply a clear base coat. Make sure to apply it evenly so that the glitter will stick to the entire nail.
2. Dip your nail in the pot of glitter or with a brush sprinkle glitter, laying it flat over the surface and rolling it back and forth a bit to cover the sides.
3. Tap your finger to remove any extra glitter. If you find that the glitter seems chunky or not completely even, you can press it on with your fingers.